______________________________________________________________________________________________

my son,Zachary,is an on fire believer in our LORD...
he loves to make up JESUS tunes of his own...click
to hear the first
of many Zachman originals...
he calls this one,
"HE holded on"
Guess what?...John has also wrote an inspired book of poetry and stories...to the glory of our MOST HIGH....What`s it called?...Where can it be found?....
...keep reading...
"Plant A Seed"..."There are many reasons that this book was written. The main reason is to introduce people to a different side of our Lord and Savior Jesus Christ. These poems were written to inspire your heart and to make you think, Where am I going? There are stories for seasoned Christians, those who have lost their direction in life, and those seeking the Lord. Theres something here for everyone. If you have wondered, Why do people keep trying to change me? Why do they keep bothering me with this Jesus?the main reason is love." Nobody thinks they can be saved. Ive done this or that wrong. Doubt will keep you out. It doesnt matter what people think. It matters whats in your heart. "If people worried about You,Lord, like they worry about me / Thered be a line to Heaven,as far as You can see." John just prays he can "plant a seed."
...John`s book can be found at "Publish America"...when you get there,just type the title into the search box on their homepage...John is a great friend...an awesome writer...and a wonderful inspiration to us all...Here`s the link...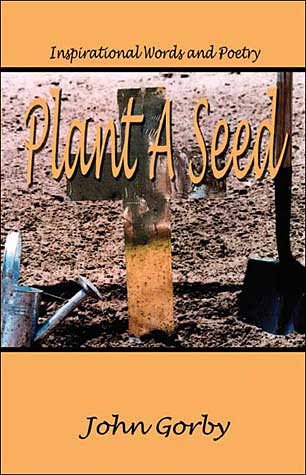 "special treat"
click on John`s bookcover above to read an excerpt from his book...one he showed me before it was comepleted...
"another special treat!"
...it`s been a few years since John wrote "Plant a Seed".....since then, he has recently published a second book called "Tend The Garden"....you can find it at Publish America also....
Tend the Garden: Stories and testimonies about how inspirational poetry can change people's lives
John Paul Gorby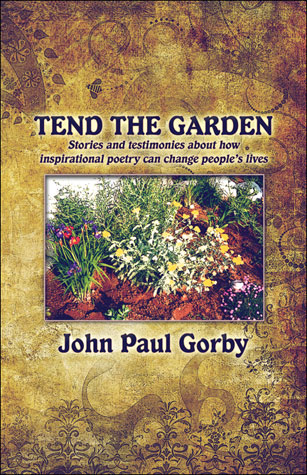 ________________________
my friend Terri sent me this great story
that has a greater moral...click the link
to find out about...
________________________
laugh a little,then cry a little...
click here for some...
______________________________
Tina sent me this heartwarming
story of faith...i think i was inspired the
most by the fact that it`s
___________________________________
click this link to see how a man glorifies
our LORD with
_______________________________________
my friend Alayna sent me this ...
i think it`s really cool...
subject?
then check out another beautiful point
of view from that beautiful 23rd psalm...
from my friend...
_____________________________
my wife and i have a really good friend
who lives here in Arkansas...her name is
Jenny Thatcher...she sends me lots of
JESUS stuff....today she sent me
"THOU ART MY BATTLE AXE AND WEOPONS OF WAR"
jeremiah 51:20